I've been holding off sending a post about my concerts this season, waiting for something out of the ordinary to happen. And it just did.
This Sunday, The New York Times will publish an article about me and the Westchester Symphonic Winds, just in time to promote our first concert of the season on November 8 at 5 pm at Tarrytown Music Hall. The writer, Phil Lutz, contacted me about two weeks ago, having found us from our newly updated website. After speaking on the phone for over an hour, Phil asked to visit a rehearsal. He spoke with several of our members, and stayed for the entire rehearsal. So here's the result.
And the concert? It's sub-titled "Ayre & Space," and I'm very proud of this program. It features operatic duets (ayres) for two sopranos (guest soloists Kyunghee Kim and Eunjoo Lee-Huls), including the famous "Flower Duet," from Léo Delibes's opera, Lakmé; Tim Takagi, our Apprentice Conductor, conducting Three Ayres from Gloucester, by Hugh Stuart; and some tremendous works built on outer space themes: Mare Tranquillitatis by Roger Zare, Mars by Gustav Holst, and the title theme from Star Wars, just in time for the release of the seventh film in December. My wonderful friend, Mary Schneider, Director of Bands at Eastern Michigan University, will return to the area to be our guest conductor for a performance of Luminescence, by David Biedenbender.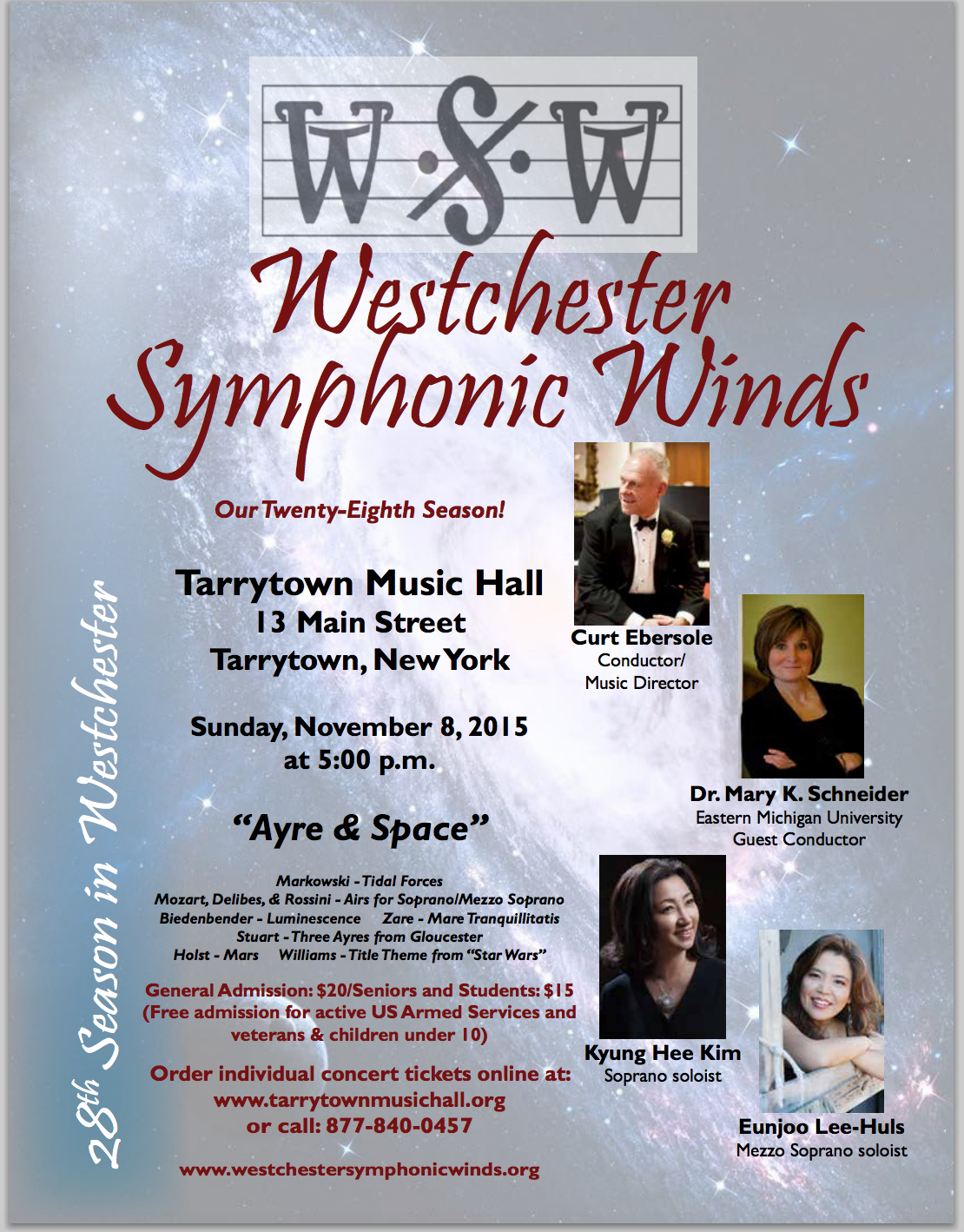 Our season will continue with four more performances:
Saturday, November 21 at 8 pm: Benefit Concert at Congregation Kol Ami, White Plains, NY.
Sunday, February 28 at 3 pm: "Spirit & Fortitude," at Tarrytown Music Hall, featuring Brian Worsdale, guest conductor, and our percussion section as featured soloists, performing Black Rainbow, by Nathan Daughtrey.
Saturday, May 14 at 8 pm: "Birds of Earth & Sky,"at Tarrytown Music Hall, featuring Darryl Bott, guest conductor, and guest soloists, Kristen Mather de Andrade, clarinet, and Jim Ognibene, basset horn.
Sunday, June 19 at 3 pm: Exchange Concert with the renowned Northshore Concert Band, Mallory Thompson, conductor, at the Palace Theatre, Stamford, CT.
Saturday, July 2 at 8 pm: Fourth of July "Pops, Patriots, and Fireworks" at Caramoor Center for the Performing Arts, Katonah, NY.
If you're in the area and would like to attend, drop me a line!