I have lots of news, but fair warning — I also have a challenge.
Today's post is about my amazing experience with the Nevada All-Orchestra last week, and my wonderful Westchester Symphonic Winds. But most of all, I'm writing to ask (for the first time ever) for support.
As you'll see below, we're hosting the renowned Northshore Concert Band in a combined concert with WSW at June 19 at the Palace Theatre in Stamford, CT. We need one final financial boost to keep ticket prices reasonable for all, and so we've mounted a GoFundMe campaign to raise the final $10K of our concert production costs. We've already raised 25% of our goal! I'm asking you to consider a $25.00 donation to this campaign. If we get 300 donations of $25.00 (or more), from the combined contact resources of our 60 members, our goal is met. Considering the number of contacts from our 60 members, this is entirely possible. (And there are substantial perks for donations of $1000 or more — two such donations have already been made!) So I hope you'll consider clicking here and supporting our project.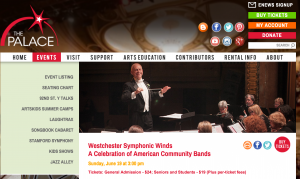 The Northshore Concert Band, founded by my first conducting teacher, John Paynter, was the cornerstone of my experience with community bands. After finishing my grad degree in 1981, I played in Northshore, and had the opportunities to perform under Mr. Paynter at Midwest and the inaugural WASBE conference in Boston. For the past 10 years, the band has been conducted by my lifelong friend, Mallory Thompson. Bringing this incredible ensemble to the New York area is an exceptional opportunity for the thousands of community players in our area. And we are thrilled to host them after our exciting trip to Chicago last June to share their concert at Pick-Staiger.  It will be a remarkable program, including individual performances by both bands, plus an All-American grand finale as we combine both ensembles for two Sousa marches, The Gallant Seventh, and The Stars and Stripes Forever. We were lucky to find the Palace Theatre for this concert, as it is one of the only stages in the area which will accommodate over 140 players in the combined ensemble!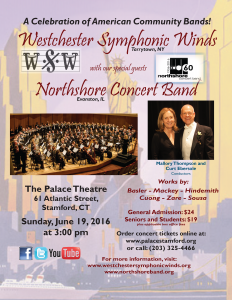 As our WSW president, Jim Savage, recently noted, we have had some significant accomplishments during my tenure as conductor:
Three annual subscription concerts at Tarrytown Music Hall, including our spectacular 25th Anniversary Gala in 2013
Three guest conductors and three guest soloists every season, resulting in tremendous collaborative opportunities
Our first performance at Avery Fisher Hall in 2010
Our first performance at the Association of Concert Bands National Convention in Poughkeepsie in 2012
Our concerts in Yonkers and Mahopac in support of their school music programs
Conductor's Clinic and Symposia at NVOT
Upcoming: our third July 4th concert at Caramoor Center for Music and the Arts
Our Kol Ami benefit concert
Our first-ever road trip to Chicago in 2015
Our fund-raising efforts so far have resulted in:
New performer chairs
New performer risers
A permanent home for our expanding library
Please also consider sharing the link to our GoFundMe campaign below with your contacts. You can also find our fundraiser in social media and share it. Every dollar raised eases the financial challenge of hosting our friends from NCB and makes more possible for us. Click here to order tickets for this amazing concert.
2016 Nevada All-State Orchestra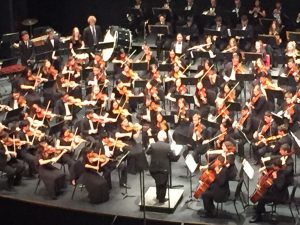 I had the amazing opportunity last week to conduct the 133-member All-State Orchestra in Las Vegas, Nevada. These amazing student musicians were a joy, even through the grueling 10+ hour rehearsal days. My program included the Overture to Colas Breugnon by Kabelvsky, The Final Covenant by Fisher Tull, and the Finale to Symphony No. 1 by Kalinnikov. The hosts were kind enough to help me assemble the 22 antiphonal brass players needed to pull off the Finale, and the effort was well-rewarded. The marathon concert began at noon on April 16, and included the All-State Chorus, All-State Jazz Band, All-State Middle School Band, All-State High School Band (conducted by my new colleague and friend, Tony Maiello),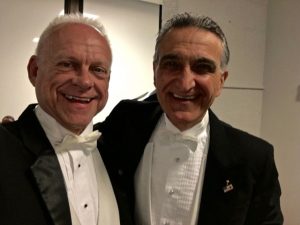 before the orchestra finally took the stage around 8:00 pm. The players were so dedicated and I found them to be extremely well-prepared. The performance was certainly a tribute to their individual orchestra and band directors' work. I want to thank Pardis Salehi, Josh Mittendorf, Eric Maine, and Christina Monaco-Figueroa for making all this possible. After the experience as an adjudicator two years ago at the Clark County Orchestra Festival and now this experience with the All-State Orchestra, I feel very much at home in Las Vegas! I also want to thank Masters parent Lucero Zapata for welcoming me and inviting me to lunch at the outdoor patio cafe at the Paris Casino Hotel — magnifique!
Upcoming WSW concerts – Tarrytown, Stamford, and Caramoor
So the next three months are extremely busy, with three big concerts in a row. If you live locally, I hope you'll consider attending!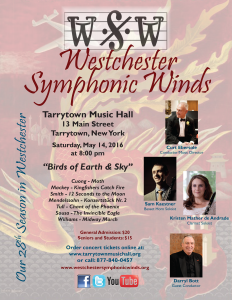 On May 14, I'm welcoming guest conductor Darryl Bott, from Rutgers University, and two fabulous soloists, Kristen Mather de Andrade and Sam Kaestner, from the West Point Band, to perform on our Spring Concert at Tarrytown Music Hall. Darryl will be conducting 12 Seconds to the Moon by Robert W. Smith, and Kristen and Sam will be playing clarinet and basset horn, respectively, for Mendelssohn's Konzertstück Nr. 2. Our focus works on this program include Moth by Viet Cuong and Kingfishers Catch Fire by John Mackey. This program is Saturday, May 14 at 8 pm at Tarrytown Music Hall. Please click here to order tickets.
As I described above, on Sunday, June 19, we welcome Mallory Thompson and the Northshore Concert Band to join us on the beautiful stage at the Palace Theatre in Stamford, CT at 3:00 pm. The Northshore Concert Band will start the program with Mangulina, by Paul Basler; Sheltering Sky by John Mackey; and Symphonic Metamorphosis of Themes by Carl Maria von Weber by Paul Hindemith. After intermission, the Westchester Symphonic Winds will continue with works from our Fall and Spring concerts: Moth by Viet Cuong; Mare Tranquillitatis by Roger Zare; and Kingfishers Catch Fire by John Mackey. And then, as I noted, we'll pull everyone on stage for two Sousa marches: The Gallant Seventh, conducted by Mallory Thompson, and I will conduct The Stars and Stripes Forever to close the program. Yes, this is Father's Day — and what better way to treat the father in your life than this outstanding concert! Click here for the link to the Palace Theatre site for tickets.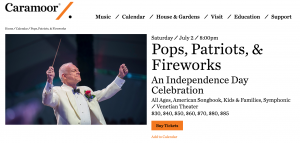 Lastly, our final concert of this incredible season will be the "Pops, Patriots, and Fireworks" concert at the Venetian Theater at Caramoor on Saturday, July 2 at 8:00 pm (note this is not on Independence Day this year). This is our third performance at this world-class venue, and we couldn't be more excited. Broadway baritone, Ryan Silverman, will be featured once again, along with John Palatucci, euphonium. The gardens at Caramoor are perfect for picnicking before the concert, and the holiday atmosphere is perfect for a mid-summer concert. Once again, we have invited almost 100 handbell players to join us for the 1812 Overture finale — something you do not want to miss. And the fireworks are truly spectacular! This concert sells out every year, and it is already 50% sold, so I encourage you to plan ahead and order tickets as soon as possible.
Retired?
There was a rumor going around that I retired. Clearly that was a fabricated story. Thank you for your support for these upcoming concerts, and for our GoFundMe Campaign as well.