Although we were lured into thinking that the endless summer would last through the New Year, the wind shifted this week in a big way, and suddenly it really feels like Thanksgiving. Tim and I wish you all the best for the holiday, and we are both very grateful for friends, family, and loved ones, near and far.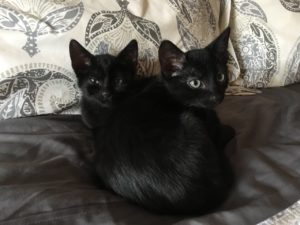 We lost our beloved cat Darren (18 years old) in October, 2 years after losing Jezebel (16 years old). We had been keeping our eyes peeled for an adoption opportunity, hoping for a pair of siblings. Our hopes came true this past week when we adopted a pair of 10-week old brothers, who had had lost their mother and were fostered at Tilly Foster Farm in Brewster. We've named the boys Neiman and Marcus, and they've been home now for a week. It's amazing how much energy a pair of kittens can expend, and how much we've fallen in love with these two little guys. We're very lucky, and I think they're pretty excited to be settling in with us. To avoid being too obnoxious on Facebook with constant cat photos, videos, and updates, they now have their own Facebook page (yes, seriously!). We'd love to share their growth; please like their page!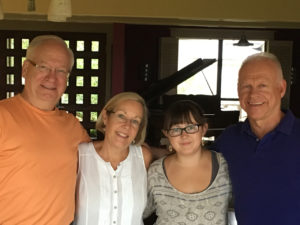 My wonderful Westchester Symphonic Winds performed at the top of their game on November 6. The program included Pictures at an Exhibition by Mussorgsky, which they performed with passion and precision. The concert opened with Aubrey Fanfare, by Jack Stamp (far left in the photo). And like many of the works special to me, there is a story behind the piece. The fanfare was written in honor of Fisher Aubrey Tull, with whom Jack studied composition back in the 80's. I had met Fisher in 1980 when he was an artist-in-residence at Northwestern, and at the same time I became fast friends with his son, Tim Tull, who was also studying in the grad conducting program. Over the years, Tim and I maintained a very close friendship. In 2014, he visited Fire Island with us, and in 2015 he played with WSW back at Pick-Staiger Concert Hall when we traveled there for the Exchange Concert with the Northshore Band. Tim was killed in a tragic accident with a commuter train in September 2015, and I feel the loss every day. His sister, Jennifer Tull (second from the left in the photo) inherited their father's musical archives (including his scores, sets of parts, photos, and letters). This past August, she invited me and Jack to Austin to help sort through the archive and organize it. While there, I met Fisher's granddaughter, Aubrey (next to me in the photo). I had already programmed Aubrey Fanfare for the November concert, so it all fell together during my visit to Austin. I'm grateful to Jennifer, Aubrey, Jack for this wonderful experience!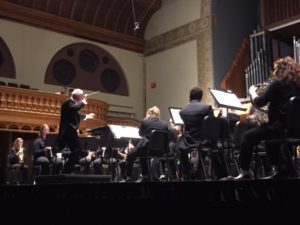 On November 13, I took Amtrak up to Syracuse to conduct and speak at Syracuse University. Brad Ethington, Director of Bands at Syracuse, was my guest conductor on the November 6 concert, and my trip completed the exchange we set up. I spoke in the conducting classes and conducted three works on the Wind Ensemble concert on November 15. I conducted Luminescence by David Biedenbender, plus the Bach harmonization of the chorale, Break Forth, O Beauteous Heavenly Light, and William Latham's chorale prelude of the same name. All three works were based on the same melody by Johann Schop. It was a great experience, and I'm grateful to Brad for his wonderful hospitality.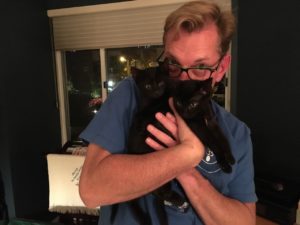 Tim and I are having Thanksgiving here in White Plains. I'm running out to Pennsylvania for a quick visit with my mom, Helen, on Black Friday. We both are grateful for the blessings of our lives together, and wish the very best to everyone as begin the winter holiday cycle.
PS – My next WSW concert is Sunday, January 29 at 3 pm at Tarrytown Music Hall. And we have been invited to be the featured ensemble at the New York State Band Directors Association Winter Symposium on March 4 at 8 pm in Liverpool, New York (next to Syracuse). Let me know if you're in the area and would like to attend either concert!