WSW concert – January 29 at 3 pm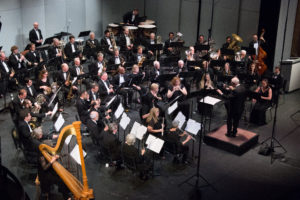 My wonderful Westchester Symphonic Winds will perform their second concert of the season this coming Sunday, January 29, at 3:00 pm in our beautiful home, the Tarrytown Music Hall. The program is entitled "Determination & Grit," and includes some inspiring music for winds and percussion. Included on the program are a number of my favorite pieces, including Aspen Jublee by Ron Nelson and Resplendent Glory by Rossano Galante. In addition, we're featuring guest conductor Jeff Ball, soprano Daniella Ashbahian, and apprentice conductor Mark Dodge. You can click the link above for tickets, or contact me for reduced price Friends & Family tickets. If you live in the area, I hope to see you! (And if you don't live nearby, consider coming to surprise me!)
We will follow up this concert by taking the program on the road (literally), as we travel to Syracuse on March 4 to perform as the featured ensemble at the New York State Band Directors Association Winter Symposium. The invitation to perform at this conference is a great honor, and we're excited to make the trip. We'll play our fourth concert at Caramoor on Saturday, July 1. Next season, WSW will celebrate its 30th season, and I will be observing my 10th year as conductor. I'm planning some extra special repertoire, guest conductors, and soloists to mark these two anniversaries.
Neiman & Marcus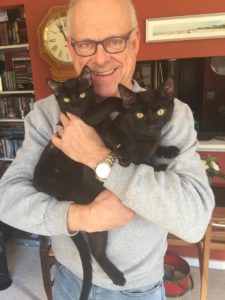 Our wonderful kittens are growing fast and giving us an immense amount of love. They are getting used to their soft claw tips (we opted not to have them declawed) and we're getting used to replacing at least one or two every week. Their antics keep Tim and I en garde at all times, but their constant purring melt our hearts when they do get into trouble. The experience of raising litter-mates is new for us both, and it is simply amazing. Every day they do something that is off the end of the adorable scale. They are truly poster-kittens for shelter animals who need a home. If you're on Facebook, you'll find lots of photos and videos on their own Facebook page.
A surprise birthday success
Somehow I managed to pull off another surprise birthday dinner for Tim on January 14. (That's him at the far end of the table.) Twenty-two friends converged at Anthony's in White Plains for amazing wings, meatballs, pizza, eggplant, and cake. Thanks to everyone for helping to keep the secret, and especially to Patty and Karen for making the trip up from Washington, DC and Fairfax, VA just for Tim. And special thanks to Monica Chimes, who coordinated flowers, cake, and Tim's arrival.
That's it for now from White Plains. Stay warm, stay dry, and I look forward to seeing you soon.