Life in White Plains
We're enjoying a particularly beautiful spring here in White Plains. The cherry trees were amazing this year! Tim is busy with weddings and other spring events, and I'm running at my usual over-the-top pace. On May 19, we're celebrating our 10th wedding anniversary — hard to believe that much time has gone by!
Our kittens, Neiman and Marcus, are now 8 months old, and have grown to four times their weight from when we adopted them in November. They are running, romping, burrowing, hiding, and playing with an ever-expanding supply of toy mice every day. They've developed this knack of pushing their toys under closet doors, then trying to reach under to retrieve them. These little guys are a real joy, and we feel so lucky that they came into our lives.
After serving on the North Jersey Band Festival executive board for since 1983, I attended my last meeting this past Thursday. My band at NVOT performed in the Festival for 31 years, and I served in various capacities as Secretary, Webmaster, Corresponding Secretary, Layout Designer, and President since 1999. I will always have fond memories of the "Clifton Band Festival."
I had a busy spring clinic season this year. I conducted clinics at Ridgewood High School, Westwood Regional High School, Briarcliff Manor High School, and Van Nest Academy. Bergen Teen Arts is coming up in two weeks. Next year is already looking busy with the Hartwick College Honors Band in October, Western Massachusetts District Band in January, and guest conducting at Georgia State University sometime in the spring. Then next July I'll be a guest clinician for the Conducting Symposium at the University of British Columbia.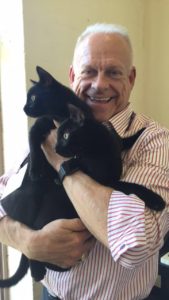 Masters
Retired? Somehow the definition has alluded me. Life at The Masters School continues to be exciting and fulfilling. I'm finishing my fourth year here, and the advisory group with which I began is about to graduate. Next year I will take on teaching a new course, Music in Film, during fall semester, and am also launching an independent study in Conducting. I'm very happy that the single student slot has been filled, and this student will be co-registered in String Ensemble as a lab. The goals will be aligned with the fact that he has not yet had theory and analysis, but will include lab practicals with a staff pianist and a final project conducting the String Ensemble. I'm also intending to invite university colleagues and Masters alumna, Marin Alsop (conductor, Baltimore Symphony), to join us for some video conferencing during the year to discuss various topics.
Last week the school raised almost $1M at a star-studded Gala, that included parents Martin Scorsese, Catherine Zeta-Jones, and Michael Douglas. My  combined Middle School/Upper School Orchestra performed a work by Richard Meyer, written specifically to feature the overlapping talent levels of beginning, intermediate, and advanced strings. I was very proud of their performance. They had performed this previously a few weeks ago at our spring concert, performed in Estherwood Mansion, with various ensembles staged in different rooms. The audience moved from room to room, following soloists performing in the next room. It was almost a Prism concert, and was received very positively, so I guess it's finally time to launch a full-fledged Prism at Masters, following on the heels of 21 Prism Concerts I produced at NVOT. It should be great fun for all of us.
Westchester Symphonic Winds
This is my ninth season conducting this marvelous group. We had a very successful concert at the New York State Band Directors Association Winter Symposium in March, in addition to our two regular season concerts in Tarrytown. We have two concerts coming up:
On Saturday evening, May 20, we'll present the final concert of the season at Tarrytown Music Hall. Guest artists include Christopher Creviston (Arizona State University), solo soprano saxophonist; Lois Hicks-Wozniak, encore solo soprano saxophonist; Patrick Burns, guest conductor/guest composer; and Bob Sherman (WQXR), guest narrator. The program includes Williams Bolcom's amazing Concerto for Soprano Saxophone, and Machu Picchu, by Satoshi Yagisawa. (Read the full press release here.) I have half-price Friends & Family tickets ($10) available — please contact me if you would like to attend.
On Saturday evening, July 1, we return to Caramoor for our fourth performance at this prestigious and beautiful summer venue. After three years of sold-out performances here, it continues to be a thrill to perform in their Venetian Theater. The program includes the Overture to Gyspy, a featured performance by guest trumpet soloist Amy McCabe, and of course, the 1812 Overture, complete with dozens of handbells. I have a discount code for tickets; if you're interested, contact me.
Next year, we'll have plenty to celebrate as the group observes its 30th anniversary, and I hit my 10th year as conductor. I'm planning some very special guests and repertoire.
Bullet Journal
My latest obsession is my Bullet Journal. Although I have maintained a smokescreen of optimal personal organization over the years, I've been lucky to make it from one week to the next without completely derailing. Seriously, I've tried post-its, notebooks, lesson plan books, steno pads, SpringPad, Evernote, Microsoft OneNote, TaskMeister, and everything in between. It got to the point that I'd wake up every day with my heart pounding and my brain going a million miles a second, because I couldn't really shut down at night, constantly reviewing all I had to do while I slept. For years, I thought the answer was on my laptop or on a handheld organizer, but I am discovering it turns out that the tried-and-true method of simply writing it down is best, at least for me. If you have been searching for a way to get your life, tasks, and calendar organized, I recommend investigating this concept, which is apparently gathering a lot of momentum across the country. Just Google it. Check out this video (click Watch the Video) for a concise explanation by the concept developer, Ryder Carroll, who is (ironically) a digital product designer. Or check out his presentation at TedxYale.
Enjoy the spring and upcoming onset of summer. I hope to hear from you, or see you at one of these upcoming concerts!