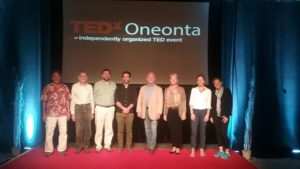 I'm in Oneonta, New York tonight, ready to give my debut TEDx Talk tomorrow at 1:00 pm EDT. My topic is "Framing Failure."
I wasn't going to advertise this until after the fact, because I was led to believe that this would not be broadcast live, and I was just going to wait and let everyone know after the fact when they post the videos on TEDxOneonta.com. But apparently, that is not true; it will be broadcast live. If you have a Facebook account, just visit the TEDxOneonta page, and the livestream will be there.
My talk is the third of eight.
And if you miss it, they will still eventually post my talk on the TEDxOneonta site. And if I'm lucky, maybe I'll make it onto the granddaddy TED site. We'll see.
Sorry for the short notice! More to come about the coming performance season soon!