In this post:
WSW season #30
Masters year #5
TEDx 2017 video update
Neiman & Marcus turn 1 year old
Concert this Sunday!
My  Westchester Symphonic Winds will present the opening concert of our 30th Season, with "Bridges & Byways," this Sunday, November 5 at 3:00 p.m. at Tarrytown Music Hall (13 Main Street, Tarrytown, NY). I am thrilled to be leading this program, beginning my tenth year as Music Director.  Our spotlighted work is "Brooklyn Bridge" by Michael Daugherty, featuring Westchester County native, Steve Cohen, clarinet soloist. Known worldwide for his solo performances, Steve is Professor of Clarinet at Northwestern University, and we are thrilled to welcome him home to Westchester for this performance. We will also feature guest conductor Richard F. Guillen, Director of Bands at Arlington High School, conducting "Famishius Fantasticus" by Michael Markowski, a spoof on the Looney Tunes themes of the '50's and '60's. Our apprentice conductor for this concert is Ben Acrish, Director of Bands at Hendrick Hudson High School, who will conduct "Metroplex," by Robert Sheldon, a three-part salute to New York City. The program also includes: "El Camino Real," by Alfred Reed; "Our Reply," by Carl Holmquist; and "Colonel Bogey March" by Kenneth J. Alford. There is something for everyone — and I promise a couple of surprises as well! Tickets for the November 5 concert are $20 for adults, $15 for seniors and students. Children under 10 are free. You can purchase tickets at www.tarrytownmusichall. org, or contact me directly for discounted Friends & Family tickets. I hope to see you on Sunday!
The Masters School
The new school year at Masters is off and running. We had our Convocation performance last month, and I managed to get my fifth year of Private Lessons off the ground without too many disasters. Halloween is the High Holy Day at Masters. Every year the seniors decide on a theme for the year, then each grade level and every faculty department is given a specific assignment for a skit or video. Last year I played the JK Simmons role in "Whiplash." (If you missed it, I reposted it below). This year's theme was Reality TV, and our Department of Performing Arts was assigned "Family Feud." Instead of trying to recreate the game show, we just spun a series of variations on the musical theme. Since the Melodica was my very first instrument when I was in third grade, it was an apt choice for this production.
And here's a reprise of "Whiplash," in case you missed it in 2016. I know – I was type-cast.
TEDx video still in a holding pattern
I'm sorry about the false alarm email in September. They told us last minute that the TEDx would be webcast live, and a few friends actually were able to log in and see the conference room. But then it went blooey and shut down. At this point, I'm still waiting for my TEDx video to be published. I was back up in Oneonta two weeks ago, and the TEDx folks promised that the videos would be ready "very soon." I will definitely share when it's finally published on YouTube.
Gigs this year
I have quite a number of guest appearances this year, including:
Guest conductor, Hartwick College Honor Band (2 weeks ago, the reason I returned to Oneonta)
Guest conductor, New York Area All-State Band, Zone 11 (Westchester) at SUNY-Purchase on Thursday, November 16 at 8:00 pm
Clinician, Florida Music Educators Association Convention on Thursday, January 11 in Tampa, Florida. My clinic title: "Framing Failure: Amplifying Ensemble Performance with Mindfulness, Resilience, and Grit."
Guest conductor, Western Massachusetts District Band on Saturday, January 13, in Amherst, Massachusetts
Guest conductor, New York Area All-State Band, Zone 3 (Ithaca) at Ithaca High School on Saturday, February 3
Guest conductor, Windfest at Wappingers Central School District (Wappingers Falls, New York) on Thursday, February 22.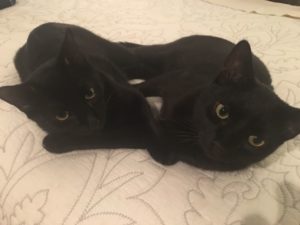 Neiman & Marcus
Even with all this going on, Tim and I managed to celebrate Neiman & Marcus's first birthday on September 11 with a Shutterfly book of photos from their first year. These little guys really light up our lives, and we feel very fortunate to have found them. Neiman (on the left) is a picky eater who loves to play with toy mice and plastic springs. Marcus (on the right) will eat just about anything, so we have to be careful what we give him (and what he gets into) so he doesn't get pudgy. They constantly entertain themselves, and their favorite playground is the bathtub. Yes, the bathtub. They carry their mice and springs into the tub, bat them around, and play catch with each other as these toys slide and roll around in the tub. But every evening, as things are winding down, they cuddle up together on a soft spot on the sofa or bed. We couldn't have scripted this to be any cuter.
Tim and I hope that your Autumn is unfolding with beautiful colors. We'll be traveling to Phoenix, Arizona for New Year's Eve to attend the wedding of Tim's niece, Shiloh. Neither of us have ever visited the southwest, so we are looking forward to that trip.
Until we see you again, all the best for the coming holidays!