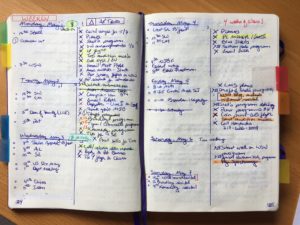 I've begun to embrace the concept of the Bullet Journal, developed by Ryder Carroll, a digital product designer. Check out this video (click Watch the Video) for a concise explanation by the concept designer, Ryder Carroll, who is (ironically) a digital product designer. And check out his presentation at TedxYale.
I've found that this method is working much better for me than any handheld device or Mac application. And I'm sleeping better because all these thoughts are no longer cluttering my mind.
I welcome your thoughts and ideas.